Yara International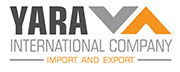 Yara's International Import & Export Company. Deals in import export procedures, methods and activities.
Test under the banner of Confidence and Honesty.
All the people working in this group are highly qualified professionals that have experience in their job and they deal with the government in their everyday work life.
Yara's International Import & Export Company is providing services to many international companies from East Asia, central Asia, Middle East and Africa. We are in contact with many companies worldwide that are interested in acquiring our services.
We provide high quality service and also help in shipping the goods from and to Turkey.
If you are an international company or factory, then we can help by introducing your products in the Middle East, Africa and Central Asia. So, we can act as Middlemen in which we help you introduce your products or services in foreign markets and also find customer and introduce them to you.
Location: Turkey
Website: www.yara.international